Table
Learn how to use the dashboard table widget and get the most out of your metrics.
How does it work?
The table widget on Plecto dashboards allows you to visualize multiple KPIs at once. Add one formula per column and display the deal value, call duration, sales, targets, and more. Group data by employees, teams, time or custom fields from a data source – the table widget is versatile and highly customizable.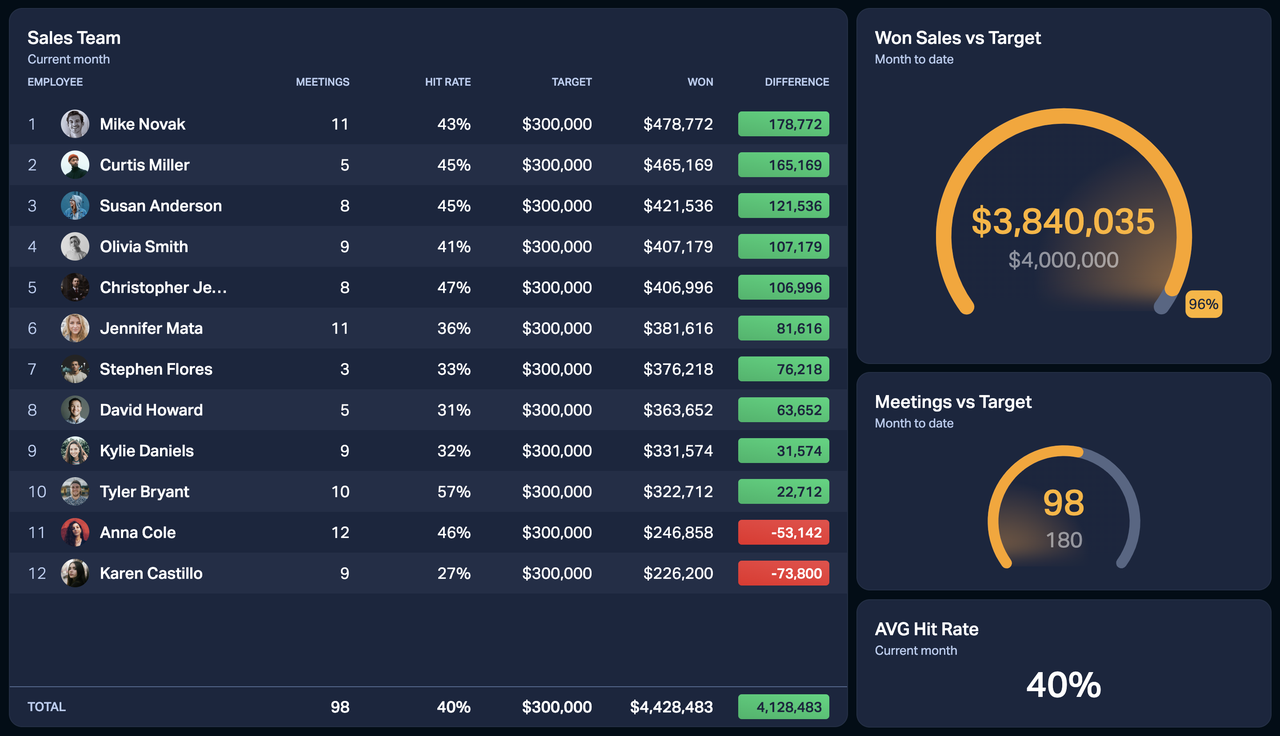 Add a table widget to your dashboard
Open your dashboard, then click + Add widget and select Table.
Hold the click button on your mouse and drag the widget onto the dashboard.
Click + Add column and select a formula. You can add as many columns as you want and create new formulas right from the widget by clicking the ➕ button.
(Optional) Give each column a title that describes the added formula.
(Optional) Give your table widget a title.
Adjust the settings such as the time period, layout, grouping, or others.
Click Save to finish.
Table widget options
Here's an overview of the table widget options.
Teams. If applied, this filter will show data for employees from the selected teams. If no teams are selected, the widget will use data for all teams in your organization. If you have applied a team filter to the entire dashboard, you will not see this field in the widget settings.
Time period. Choose how much data you want to display on your widget by selecting a time period. Learn more in Selecting a Time Period.
Layout. Customize the look of your widget - choose between default (see employee names), avatars (see names and profile pictures), and data only.
Group by. Group your data in the left column by employees, teams, time, or custom fields from a data source. Learn more in Group By.
Hide rows with zero and negative values on the sorted column. If selected, Plecto will look at the sorted column and hide all rows with negative values, including 0. It means that it might exclude values from other columns on the same row, even if they show positive values.
Limit the number of rows. Choose how many rows are visible on the table widget. Limiting rows doesn't affect the table totals.
Show totals at the bottom. See the total value of your formula result. Table totals are calculated based on the selected time period and for all groups (including those that are not visible).
Table totals
To get the totals, Plecto looks at the selected time period and calculates totals of all your data, regardless of how many rows are visible on the widget.
Group by
Grouping data by a custom field from a data source only works when using formulas based on that same data source. If you add a formula that combines data from multiple data sources and group it by a field from one data source, you might not get any results.
How to sort a column
Column sorting depends on how you group the data on the table widget. To sort the data, click on the three dots in the column header and choose your preferred sorting style. If a column is sorted, you will see a little triangle in the header.
To revert to the default sorting, click the dots again and deselect the current sorting style.
Learn about other dashboard widgets
We have made a list of all the dashboard widgets. See what you can do with each one of them. Go to KPI Inspiration if you need some ideas for your dashboards.
Was this article helpful?
Please leave a comment to help us improve.