Introduction to Slideshows
Learn about slideshows in Plecto and how to display your real-time KPIs on TVs across the office or at home.
Table of contents
What are slideshows?
Plecto uses slideshows to display your dashboards and other media on TV screens. Think of slideshows as presentations of different slides that rotate automatically throughout the day. Slideshows allow you to display all the things you've created in Plecto and more on the same TV screen.
Plecto offers 4 types of slides, and you can add as many slides to a slideshow as you like:
Dashboard slide
Contest slide
YouTube video (ex.: your company's promotional video, a song, or other)
Content from a website via URL (ex.: display the weather forecast)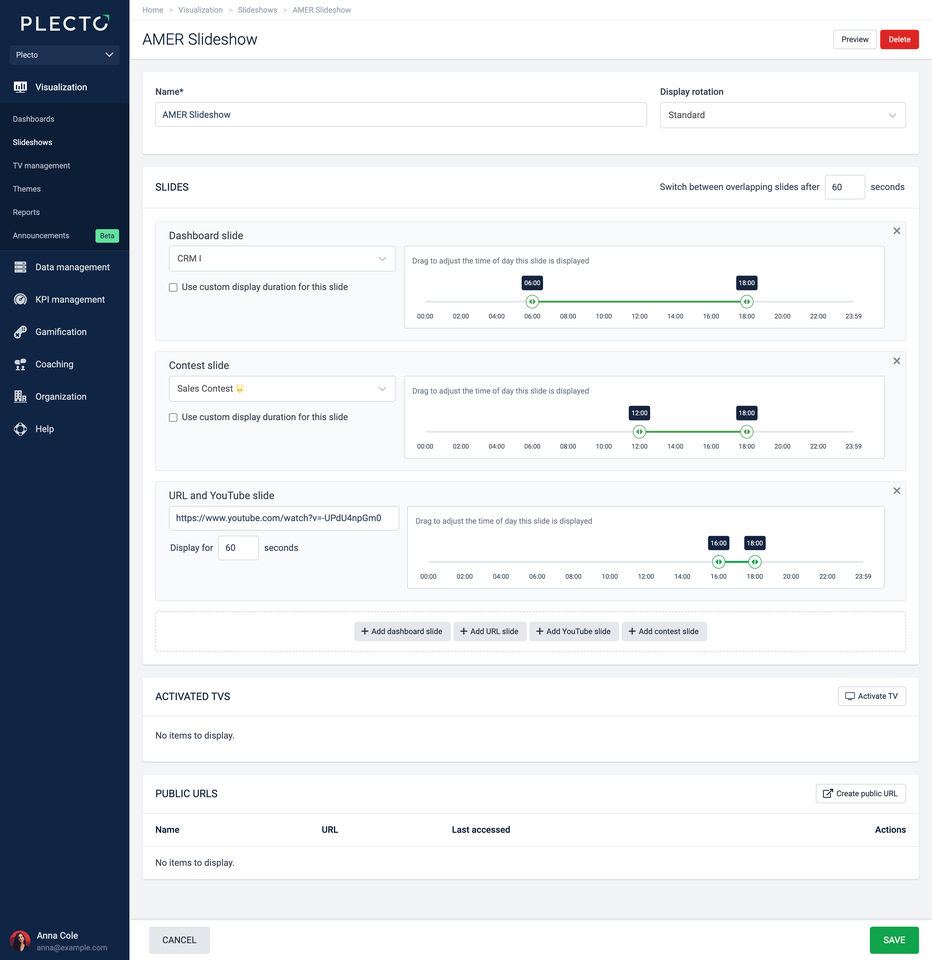 Note on URL slides
URL slides allow displaying an external website's content in the slideshow. Not all websites are supported. Therefore, make sure the website you want to add fulfills the following requirements:
The URL starts with https://. Http links won't work - we cannot bypass this browser security measure.
The website can be displayed inside an "iframe." In some cases, website pages have an X-Frame-Options header that restricts where they can be displayed. To ensure that Plecto can include the page in the slideshow, it should not have the X-Frame-Options header.
Slideshow timelines
Each slide has a timeline (the green horizontal bar).
Drag the edges or click on the hour of a timeline to adjust when the slide gets displayed. For example, if you set the time between 12:00 and 20:00, Plecto will only show the slide between these hours.
If your slideshow contains multiple slides and they are displayed around the same time during the day, it can be useful to set a slide duration. The default duration is 60 seconds, but you can choose a custom duration for each individual slide. Once the time runs out, the slideshow will switch to the next slide. The slides will keep rotating for as long as they're active.
Create a slideshow
Go to Visualization > Slideshows > + New slideshow.
Give your slideshow a name.
Add slides to your slideshow.
(Optional) Adjust the timelines and/or the slide duration in seconds.
Click Save in the bottom-right corner.
Once saved, you can preview the slideshow by clicking Preview in the top-right corner.
Screen rotation
If some of the TV screens in your office are placed vertically, you can rotate the slideshow to accommodate the screen setup. Choose between Standard, Portrait, and Upside-down rotation.
Was this article helpful?
Please leave a comment to help us improve.