Dashboard Themes
Want to change a theme on your dashboard? Choose between the default Plecto themes or create new ones to bring out your organization's values and style.
Table of contents
Themes are a great way of customizing your Plecto dashboards, and you can reuse them across all dashboards with no limitations. Each theme includes different elements, such as a background color or image, text color, widget color, and more.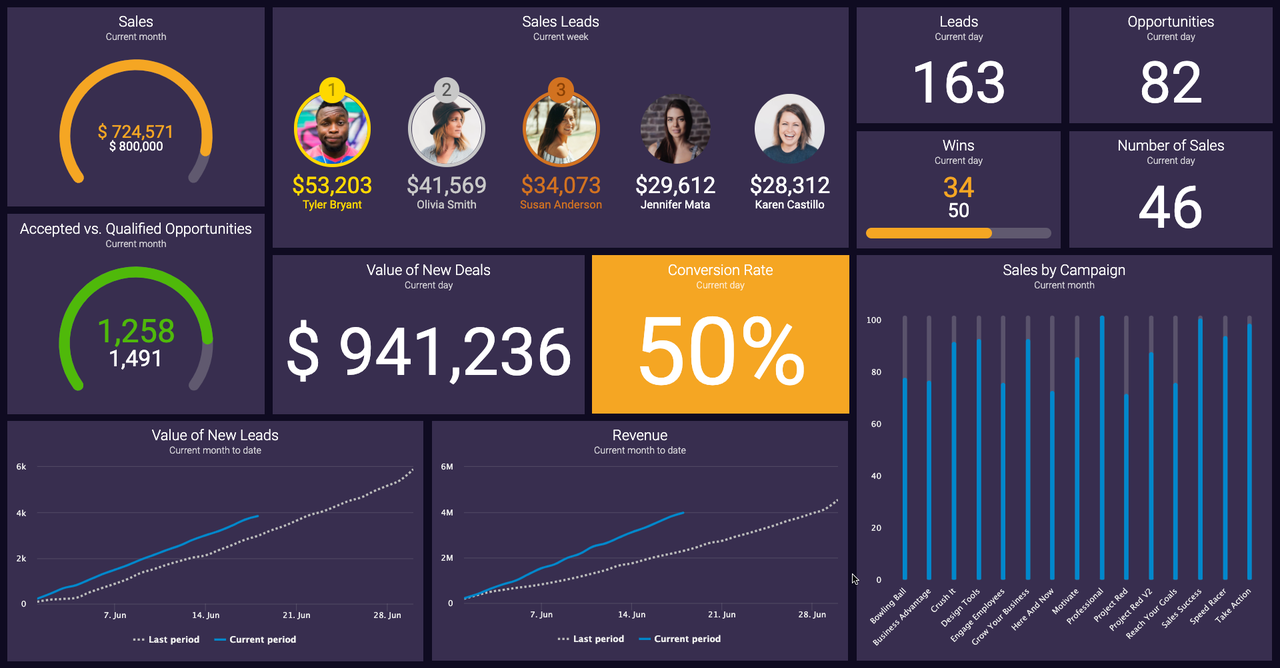 An example of a sales dashboard using the purple theme.
Select a different theme
It is easy to change a dashboard theme. You can change themes right on the dashboard or from the dashboard page in Plecto.
To change a theme directly from the dashboard, click on the "Settings" button in the top menu and select a theme from the drop-down list under "Theme." To finish, click "Save."
To change a theme from the dashboard page, go to Visualization > Dashboards, then click on the "Edit" icon next to the dashboard title. From there, select a different theme from the drop-down list under "Theme." To finish, click "Save."
The "Edit" icon stands next to the dashboard title.
Note: If you have created any custom themes, their names will also appear in the drop-down list.
Create custom themes
Be aware: You need to be subscribed to Plecto's Large or Enterprise plan and have admin access in your organization to be able to create custom themes. Visit our Pricing page to learn more.
To create a custom theme, go to Visualization > Themes > + New theme. The custom theme editor allows you to choose any color or background image - explore all the fields and get creative! 🎨
Give your theme a name. It will appear in the drop-down list among all the available themes.
Select a background color. If you want to apply a particular color, you can copy its HEX code (for example, #C70039) and paste it in the "Background color" field. Alternatively, you can click on the color palette button on the left and drag the cursor around to find a color you like.
The background and border color fields also allow adjusting color transparency.
If you want to use a background image, you can upload a file from your local device. The maximum file size is 10 MB.
Here's an example of how to create a custom dashboard theme in Plecto:
Want to change the number formatting on your dashboards? Read this article and learn how to change the decimal and thousands separators from, for example, 10,000 to 10.000.
Was this article helpful?