4. Set up Your TVs and Mobile Devices
Learn how to set up the TV screens around the office and download the Plecto app for your mobile.
In the previous step, you added your KPIs to a dashboard. Now you want to display your metrics on TVs and follow the progress with your team in real time. All you need is to add the dashboard to a slideshow and connect the slideshow to a TV.
How does it work?
Dashboards aren't connected directly to TV screens. For that, Plecto uses slideshows. Think of slideshows as presentations of different slides that rotate automatically throughout the day.
Slideshows allow you to display all the things you've created in Plecto and more on the same TV screen. There are 4 types of slides, and you can add as many to a slideshow as you like:
Dashboard slide
Contest slide
YouTube video (your company's promo video, a song, or other)
Content from a website via URL (such as the weather forecast)
Add notifications to slideshows
Get notified whenever someone closes a deal, your teams reach their targets, and more. Learn how to create notifications in Introduction to Notifications.
Add your dashboard to a slideshow
Go to Visualization > Slideshows > + New slideshow.
Give your slideshow a name.
To add a dashboard to the slideshow, click + Add dashboard slide and choose a dashboard from the list. If you want to display more dashboards or different slides on the same slideshow, add more slides and adjust the timeline by moving the left or right side edges. Learn more.
Click Save.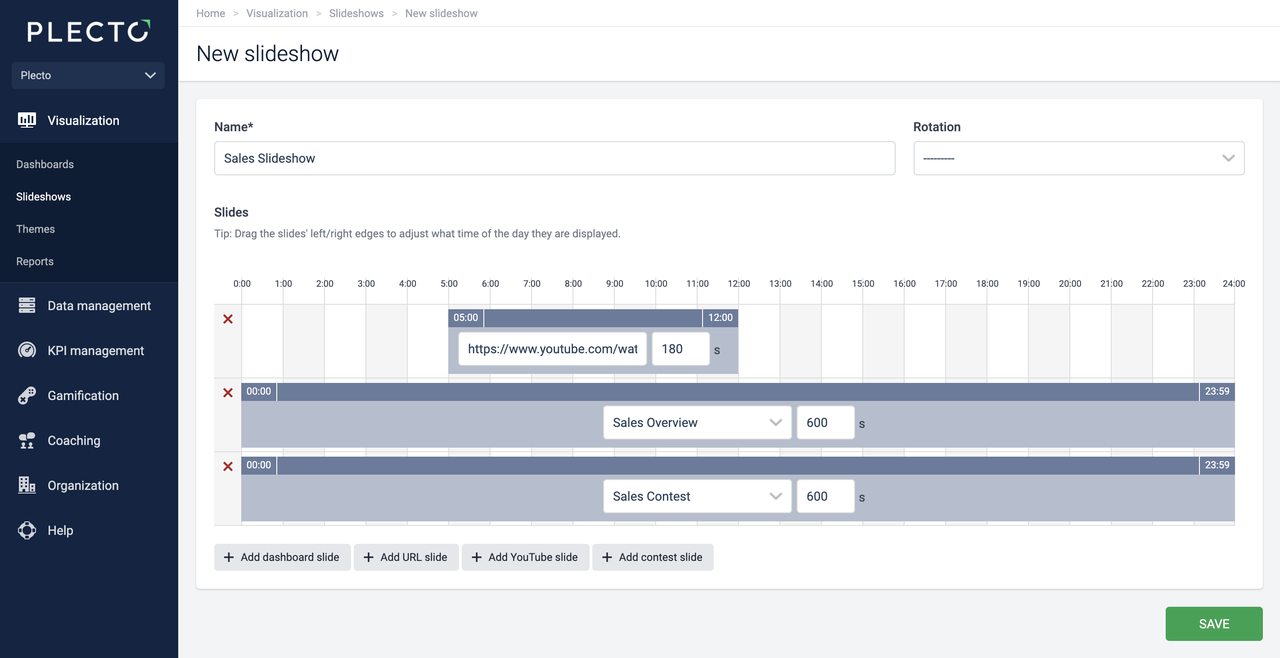 Set up your devices
1) Install Plecto on your phone
First things first. Download the Plecto app on your phone. It will make connecting slideshows to your TV screens much quicker. You'll be able to connect a slideshow by simply scanning a QR code with your phone. The app is free and available for both iOS and Android devices. Learn more.
2) Connect the slideshow to a smart TV
Open the https://tv.plecto.com page on your smart TV. You will see a four-digit code and a QR code.
Make sure to log in to the Plecto app on your phone.
Scan the QR code with your phone's camera and tap the notification once it appears.
You should now see the Activate TV page.
Choose a slideshow you want to display on the TV.
Give your TV a name (for example, TV Main Room).
To finish, click Activate.
All the activated TVs are listed under Visualization > TV management in Plecto.
If you have LG or Samsung TVs, you can install the Plecto TV app. The app is more reliable than the TV browsers and guarantees that all the features are supported. Learn more in our help articles for LG TV and Samsung TV. For more general information, read How to Display a Slideshow on TV.
Was this article helpful?
Please leave a comment to help us improve.