Introduction to Plecto
Use Plecto to boost your organization's performance and get a real-time overview of your business metrics.
Table of contents
What is Plecto?
Plecto is a business performance platform that enables your organization to get an overview of its business metrics in real time. With Plecto, you can track and visualize key performance indicators (KPIs) on real-time dashboards and boost your organization's performance with our reporting, gamification, and coaching tools.
Real-time dashboards
In Plecto, a dashboard is a data visualization tool that displays your KPIs on a variety of widgets. All dashboards are highly customizable, and it is up to you to decide how to visualize your business metrics. Create as many dashboards and add as many widgets as you like - the sky is the limit. 🚀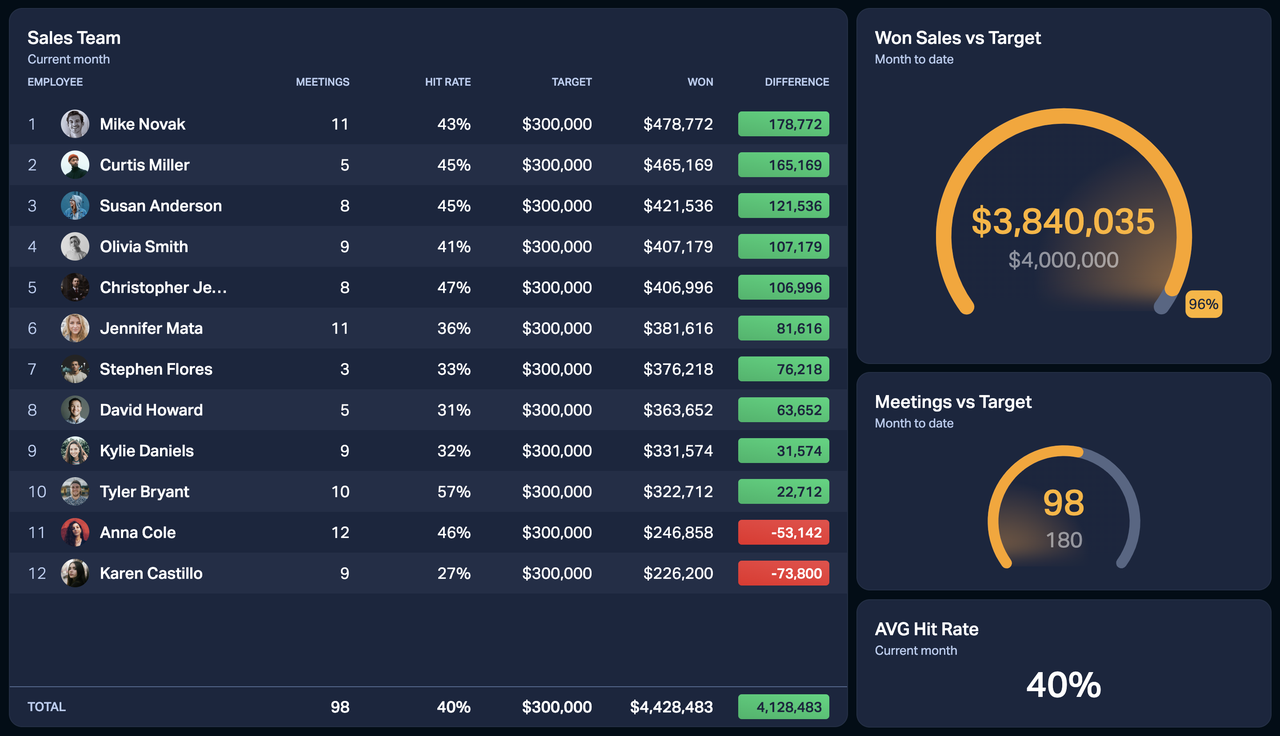 An example of a performance dashboard.
Plecto Store
We offer ready-made dashboards created by our experts that you can install for free. Visit the Plecto Store and see if you find something you like.
Reporting
Analyze your business performance with Plecto's reporting tools. Create reports and extract unique metrics that enable you to immediately identify if you're heading in the right direction.
You can export all your reports as Excel spreadsheets or PowerPoint presentations - and you can even automate this process! Choose between 8 highly customizable widgets and add your formulas to create a complete overview of your KPIs.
Subscription
You need to be subscribed to Plecto's Large or Enterprise plan to be able to create and edit reports. Go to our Pricing page to learn more.
Gamification
Use our gamification tools to boost your organization's performance in a positive and motivational way. With Plecto, you can make workdays interesting and allow your employees to have fun while reaching their targets. Currently, we offer three gamification options: notifications, contests, and achievements.
Notifications
Add instant notifications to recognize and celebrate success right as it happens.
Contests
Set up contests for teams or employees and award everyone for their efforts in reaching the targets.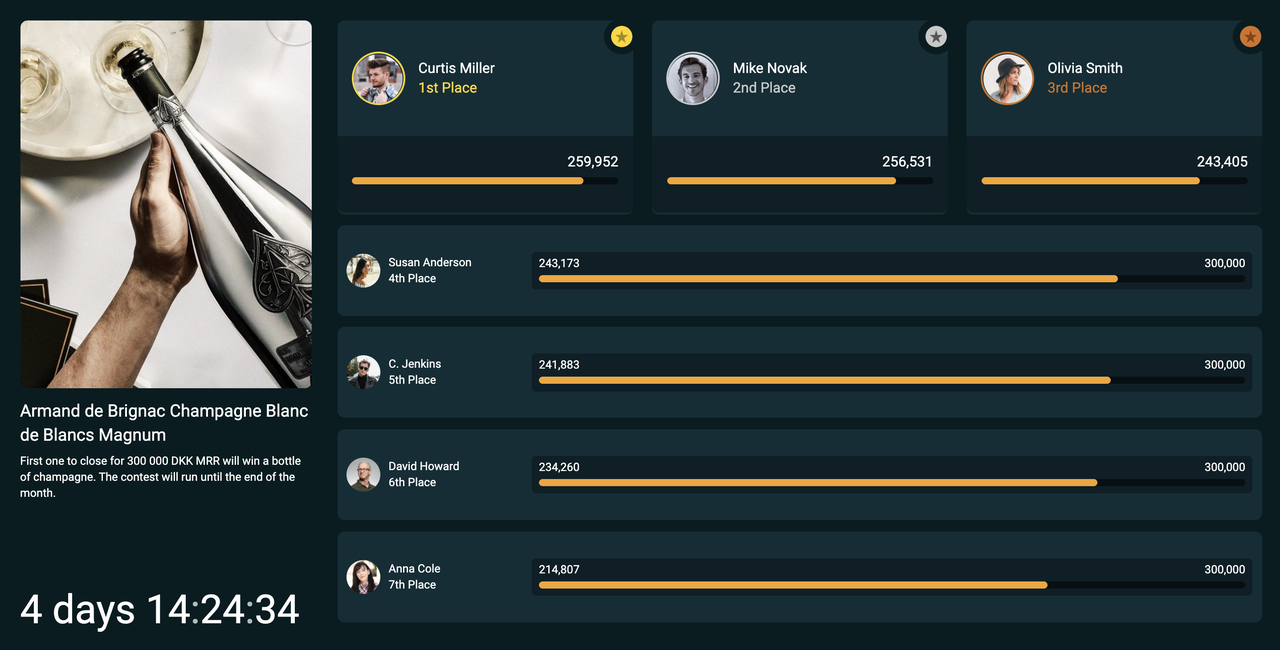 Achievements
Give achievements and acknowledge individual employees across the organization.
Olivia Smith's achievement is displayed with a trophy icon.
Coaching
Use performance agreements and create individual Objectives and Key Results (OKRs) together with your employees. Set up personal targets and allow your employees to focus on specific goals that align with the overall company vision. All targets and agreements are confidential, and only the employee and their manager can see their agreement.
Your data
Adding data into Plecto is what enables you to use all of our features. You can enter the data manually or choose from 60+ systems to integrate with. Once you add your data, it gets stored in a data source.
The last step before you can create dashboards and reports is to build formulas. Formulas allow you to combine data from different sources and calculate metrics such as the value of won sales, the number of answered calls, month-to-date targets, and much more.
A single formula allows you to extract multiple KPIs once you add the formula to a widget. You can build a formula to count the number of calls and use it to see the KPI for today, another KPI for the current month, a third one filtered by teams or employees, and so on. Learn more about the difference between a formula and a KPI.
How does Plecto treat your data?
Your data safety is our top priority. When you connect Plecto to a system such as Salesforce, Zendesk, Aircall, or others, Plecto gets read-only access.
Was this article helpful?
Please leave a comment to help us improve.