How to Create a Contest
How to create a contest in Plecto and introduce a friendly competition in the office.
Permission required
Only Global Admins or employees with access to Create & edit the Contests feature can create contests in their organization. Learn more in Introduction to Permissions.
What are contests?
Contests are a great way of focusing your team towards a common target and boosting the team's performance in a friendly manner. Create a competition between your teams or employees, and track the results in real time. With contests, you can be creative and customize them any way you want. 🏆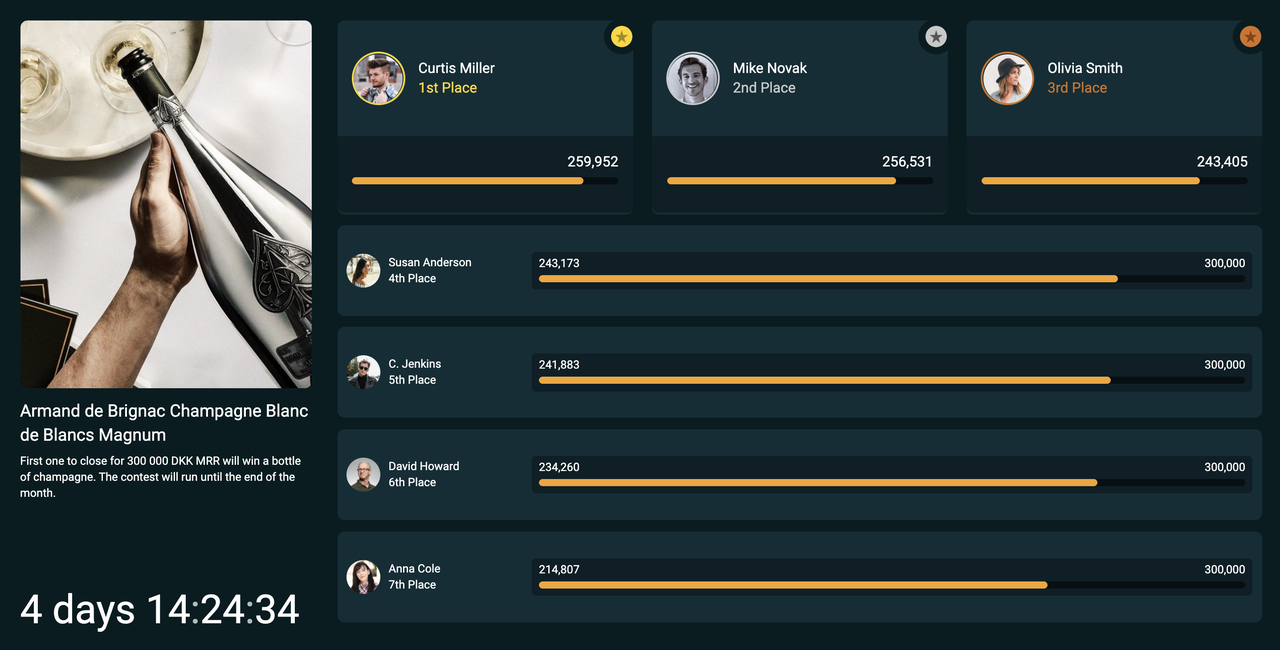 Contest types
You can organize contests where each employee competes for themselves or where teams try to beat other teams. Here's a quick overview of how that works:
Players vs. Players: If you select players, you will have to add each employee who will be participating in the contest. You can give each employee an individual target by entering a target value in the field under the employee name.
Teams vs. Teams: If you select teams, you can either form a new team or choose an existing one from your organization. Give the team a name, and decide if you want to add a team picture or give each team an individual target.
How to create a contest
Go to Gamification > Contests > + New contest.
Fill out the contest form. Plecto lets you preview the contest including your custom image and text. Here's the information you need to include:

Add a contest name. Once you add the contest to a slideshow, the contest name will be displayed in the slideshow header.
(Optional) Add contest description, the name of the prize, and an image. The more details you fill out, the more appealing the contest will seem.
Choose the start and end dates. You need a time frame for your contest. Once added, Plecto will show a countdown on your contest.
Select a formula. This can be the number of closed deals, completed tasks, won deal value, or any other KPI you want to base your contest on.
(Optional) You can add a target value. If no target is added, the contest will look for the employees or teams with the highest value (highest number of deals, the value of sales, etc.).
Choose the layout and a theme. You can choose between classic, podium, and leaderboard layouts.
(Optional) You can disable the sidebar if you don't want to see the contest details, such as the prize name and description.

Choose the contest type and configure the participants. You can choose to organize the contest between individual employees (players) or teams.
To finish, click Save in the bottom-right corner.
How to add a contest to a slideshow
Go to Visualization > Slideshows and create a new slideshow or open an existing one.
Click + Add contest slide and choose a contest from the dropdown list.
(Optional) Drag the sides to adjust the slide's timeline or choose a different slide duration by entering a different number in the contest slide (in seconds).
To finish, click Save in the bottom-right corner.
Is your slideshow connected to a TV screen?
To see your dashboards and contests, you need to add them to a slideshow and connect the slideshow to a TV screen. Find the instructions in our guide on How to Display a Slideshow on TV.
Play the contest introduction
Announce the contest with a colorful contest introduction! You can play the contest intro during the time when the contest is active (between start and end dates).
To play the contest introduction, you first need to open the slideshow on your TV.
Then, go to Gamification > Contests and click Play Contest Intro.
Plecto will immediately play your contest introduction.
Here's an example of how the introduction might look like:
Want to learn more about slideshows?
Slideshows can do many things. With slideshows, you can display dashboards, contests, YouTube videos as well as send notifications, announcements, and more! Go to Introduction to Slideshows to learn more.
Was this article helpful?
Please leave a comment to help us improve.