Wrike
Learn how to connect your Wrike account to Plecto and create data sources in Plecto.
Table of contents
An example of a Wrike dashboard.
Be aware: This integration is currently available as beta feature in Plecto.
Available data types
Import data from Wrike and create dashboards with your project management KPIs. You can connect Wrike to Plecto and create metrics from the following data types:
Connect Wrike to Plecto
To connect Wrike to Plecto:
Go to Data management > Data sources in Plecto and click on "+ New data source."
A list of integrations will open. From there, select the Wrike integration and click "Next."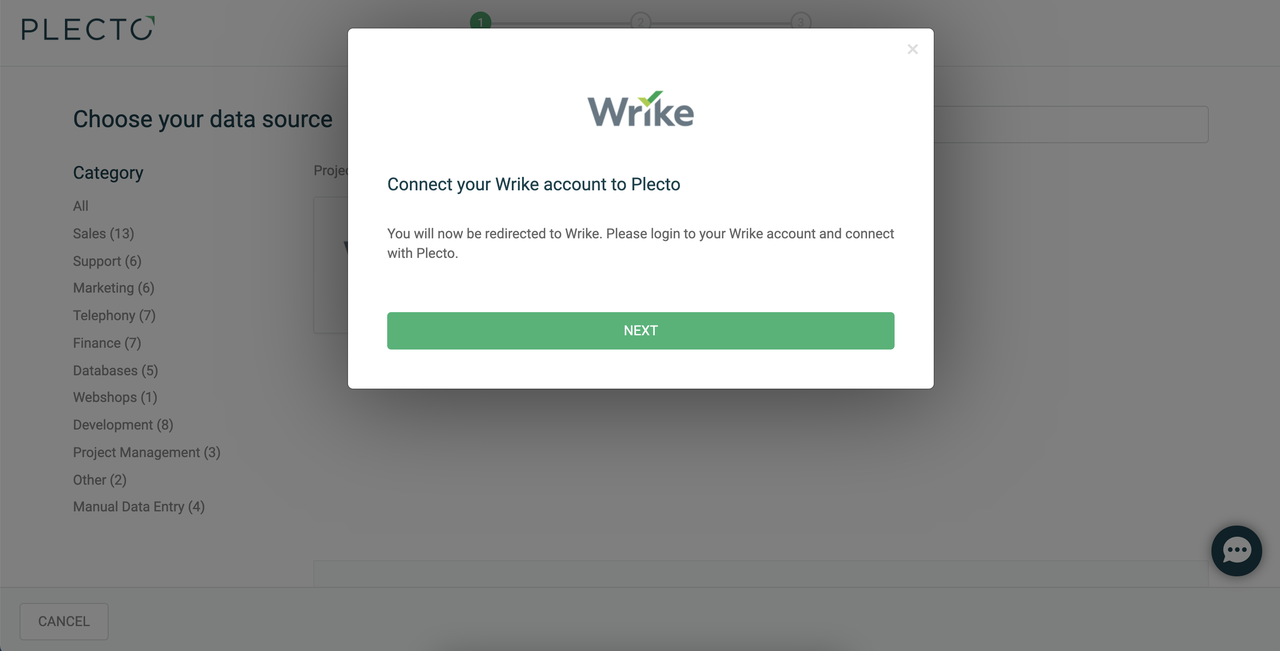 An example of the first step of adding a Wrike data source to Plecto.
If you are logged into your Wrike account, Wrike's authorization page will open. Click on "Accept" to grant Plecto permission to view properties of tasks and information about users. If you are not logged in, follow the instructions on the screen to log in, then complete this authorization step.
An example of Wrike's authorization page.
Once you have granted Plecto permission to access your Wrike account, you will be able to select the data types to import.
Select the data types and add a project from your Wrike account from the drop-down list. To finish and import your data, click "Next."
An example of the available data types you can import from Wrike to Plecto.
If you import only one data type, Plecto will create one data source and redirect you to its settings. From there, you can edit the data source details, credentials, fields, and more. To finish, click on "Save" in the bottom-right corner.
If you import both data types, Plecto will create two data sources and redirect you to your data source list under Data management > Data sources.

An example of the data source page in Plecto.
Tip: Visit Plecto Store and install a Wrike dashboard to see your project management KPIs right away. The dashboard is ready to be used with your Wrike data sources, and you can customize it however you please once it's installed.
Was this article helpful?