Flexfone
A guide on how to integrate Flexfone with Plecto.
An example of a Flexfone dashboard.
Available data types
For each data type you import, Plecto will create one data source and list it under Data management > Data sources. Currently, you can import the following data from your Flexfone account to Plecto:
Calls. You will see the duration, type of calls, status, and more.
The Calls data type is solely based on webhooks, which means that Plecto cannot import historical data. Once you create the data source, it will be empty and start adding registrations as your calls happen. Visit our Flexfone integration page to see the technical details.
How to integrate Flexfone with Plecto
To integrate Flexfone with Plecto, you need to know your Flexfone account number (Brugernavn) and generate an API key. You can find these credentials by logging in via kunde.flexfone.dk and clicking on Integration > API.
Once you have the credentials, follow the steps below:
Go to Data management > Data sources > + New data source.
2. A list of integrations will open. From there, select the Flexfone integration.
3. Plecto will then ask you to type in your account number and API key.
4. Click Next in the bottom-right corner. You will be redirected to Flexfone's authorization page.
5. Select the data types to import.
6. Click Next to finish and import your data.
Webhooks
As mentioned above, registration data comes exclusively from webhooks. To set up the webhooks, follow the following steps (also displayed in your Flexfone data source settings):
Go to your Flexfone admin interface at https://kunde.flexfone.dk/.
Press the Jeres løsning button under Ændringer in the left sidebar.
Log in by pressing Log ind på løsning.
4. Expand the Integration section in the left sidebar and click on Medarbejder integration.
5. Click Indstillinger for medarbejder integration. This will open a popup.
6. Click on the HTTP Metode drop-down menu and choose the value POST.
7. You will see four text inputs. These inputs should be filled in with their corresponding values that you can find in your Flexfone data source settings. See the values in the following inputs (the three bottom inputs have the same value).
8. Click the Gem button in the bottom-left of the popup.
9. To finish, click on Opdater system in the top-right corner.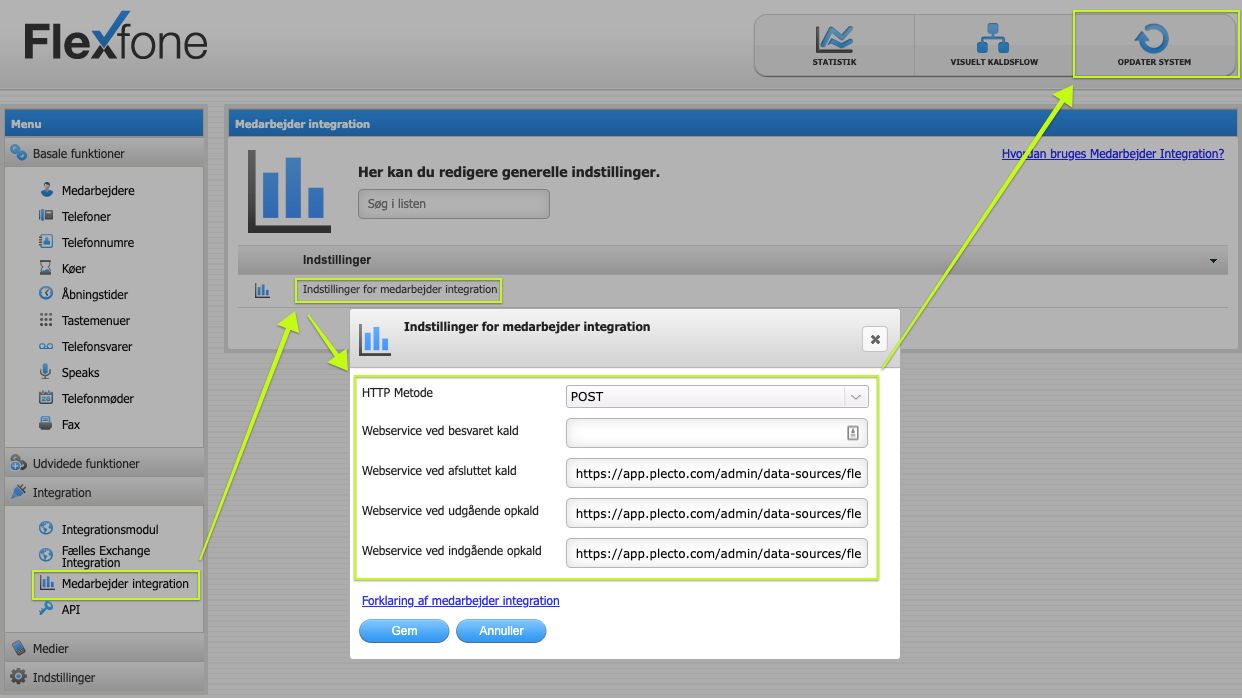 Flexfone should now be configured correctly!
Pre-built dashboard widgets
Our pre-built dashboard widgets allow you to add KPIs to your dashboard right away. This is a good start for building your Flexfone dashboard. The available pre-built widgets are:
Average Call Duration
Calls Duration
Number of Calls Completed per Employee
All of these KPIs give an insight into your Calls metrics and help you figure out how to optimize the work of your team.
Tip: Visit Plecto Store and install a Flexfone dashboard to see your KPIs right away. The dashboard is ready to be used with your Flexfone Calls data source, and you can customize it however you please once it's installed.
Was this article helpful?
Please leave a comment to help us improve.